Toyota rvs for sale in Florida
$2,777
Venice, Florida
You are bidding on a barn find! This RV was rescued from sitting for a few years, will need work, but it a great project! Was running and driving when parked in 2007. Fuel Pump was just replaced. Mileage is actual st 69000. It is automatic transmission. RV does start up, but does not stay running. Radiator was recently replace and all fluids changed. There is some water damage and assume you will need to do the interior. AC unit is there, but is not tested, along with original refridgerator and hot water heater(both not tested). Stove appears to be missing, but RV comes with coffee maker, toaster oven, microwave, and TV with remote. Plumbing seems intact, but was not tested. There is no generator, but I have one for sale. Electrical was not tested as well. This would make a great project or restoration. These RVs can get 19 MPG! The motors are very well known for reliability. Delivery is available for a fee. Pickup within 7 days or storage fees will apply. I can also store it for you on a monthly basis for a reasonable fee.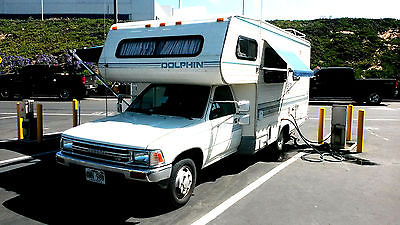 $16,000
Fort Lauderdale, Florida
Toyota Dolphin 1991 V6 Fuel Injected 3.0 L. , automatic, cruise control,tilt steering wheel, coach speakers, all new belts and tune up with fresh synthetic oil, roof air condition, 2.8 Kw onan build-in generator with 57 hours, refrigerator electric and propane, 6 gallons water heater, air suspension system, CD radio, CB radio, inverter, New rubber roof, 2 awnings, curtains in all windows, super condition for the age, come with all manuals. 15 highway miles per gallon Flat screen with CD player, Antenna, Microwave, stove, oven, LED interior lights, floor half carpet and half bamboo wooden floor, new house battery, new belts, new tires only 6,000 miles, Propane Furnace, Roof air condition with 16,000 BTU and truck air condition all working in perfect stage, New and better head lights. Fuel capacity 17 gallons, water capacity 17 gallons, holding tank black water 19 gallons grey water 17.5 gallons.