RVs for sale in Prince Edward Island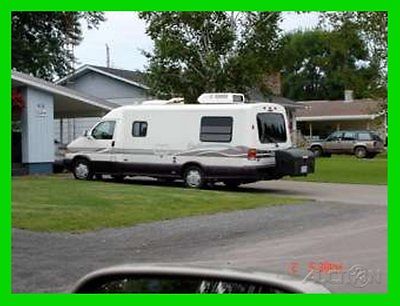 $27,000
Charlottetown, Prince Edward Island
Listing by Auction123.com copyright Auction123, Inc.National Vehicle - 1941 South 42nd St Omaha, NE 68105 - 800-320-9557 ext: 0DescriptionBasic InformationType: Motorized Class BMileage: 26098Length (Feet): 22Condition: UsedVIN: 125348Stock Number: C50695Model: RialtaMake: WinnebagoYear: 2000Sleeping Capacity: 2ExteriorExterior Color: WhiteInteriorColor Scheme: WhiteInterior Color: TanAbout2000 Winnebago Rialta 22' Class B Motorhome. Sleeps 2, AC Unit. Kitchen Amenities: Stove Microwave Refrigerator / Freezer Sink Living Area Amenities: TV Surround Sound DVD CD/Stereo Bathroom Amenities: Shower Listed by National Vehicle, eBay's largest seller of privately owned vehicles like this one located in Marshfield, PE. Please call 1-800-320-9557 and mention listing id: 125348. 00 Winnebago Rialta 22 Class B MotorhomeREADY FOR VACATION Click here for an XL view of the above Image PrevNext 1 2 3 4 TermsTerms of Sale Thank you for considering purchasing a vehicle listed by National Vehicle. Below are our terms of sale to protect all parties. By submitting an offer, clicking the buy it now button, or accepting an offer you agree to the following terms. Buyers will contact the seller within 48 hours of auction ending to confirm payment and transport arrangements. If you do not contact the seller within 48 hours, we reserve the right to seek financial reimbursement for the time and fees incurred and may open a nonpaying bidder case. The seller must receive full payment within 7 days unless other approved arrangements are made. Ask all questions before bidding. National Vehicle is a third party marketing service and is not responsible for any accidental misrepresentation of any vehicle for sale due to typographical error or undisclosed flaws. National Vehicle is advertising this vehicle for a private seller. We make every attempt to represent vehicles accurately, and strongly recommend a vehicle inspection prior to bidding and/or purchasing any vehicle on the internet. This vehicle is sold as is. We cannot be held responsible for inaccuracies in the presentation and description of the vehicles we are marketing for private sellers. Please address all of your questions or concerns regarding this vehicle before you place a bid. Auctions containing errors will be relisted with corrected information. We also reserve the right to end an auction at our discretion. All vehicles are advertised in other venues; therefore they may be subject to prior sale. We will terminate all auctions as soon as we are notified a sale. Below are links to affiliates we recommend to make your vehicle purchase experience more efficient. RV Inspection Connection - Inspectors certified by the National RV Inspectors Association Woodside Credit - Financing for Classic & Collector Cars Essex Credit - A Trusted National Leader in RV Financing PaySafe Escrow - Provides Secure Audited Funding and Escrow accounts Mr. Car Shipper - Nationawide Auto Transport Service Mr. Car Inspector - Vehicle Inspections That Save You Thousands Wyatt Leasing - Heavy Equipment Financing or Leasing RoadLoans - Apply online and receive a loan decision in less than 30 seconds Auction123, Inc. (a service and listing/software company) and the Seller has done his/her best to disclose the equipment/condition of this vehicle/purchase. However, Auction123.com disclaims any warranty as to the accuracy or to the working condition of the vehicle/equipment listed. The purchaser or prospective purchaser should verify with the Seller the accuracy of all the information listed within this ad. ContactNational Vehicle's Customer Care Team is here to help. To inquire on this vehicle, list a vehicle of your own or receive additional information including financing and transportation please call 800-320-9557 x0 or email [email protected] National Vehicle 1941 South 42nd St Suite # 104 Omaha, Nebraska 68105Ask for:Customer CareCustomer Care:800-320-9557 ext: 0Email: Email SellerEmail SellerEmail to FriendComplete and submit the form below to send a message to our dedicated sales team.* First Name:* Last Name:* Email:* Phone: Ext. Preferred Method:PhoneEmailMessage:Complete and submit the form below to send a link and your message to a friend.First Name:Last Name:* Your email:* Friend's email:We won't use this information for promotional purposes or disclose it to a third party.Message:

$4,800
Charlottetown, Prince Edward Island
Category -
Length -
Posted Over 1 Month
For sale, vintage travel trailer. Bought as a 1970, pretty sure it's actually mid '60's (any input appreciated). Bought to use for a business that didn't come to fruition. Perfect for car shows or a dream business! *See Pinterest for awesome ideasCan deliver based on location and extra charged tbd. More pic's of interior available.