Mercedes Benz rvs for sale in British Columbia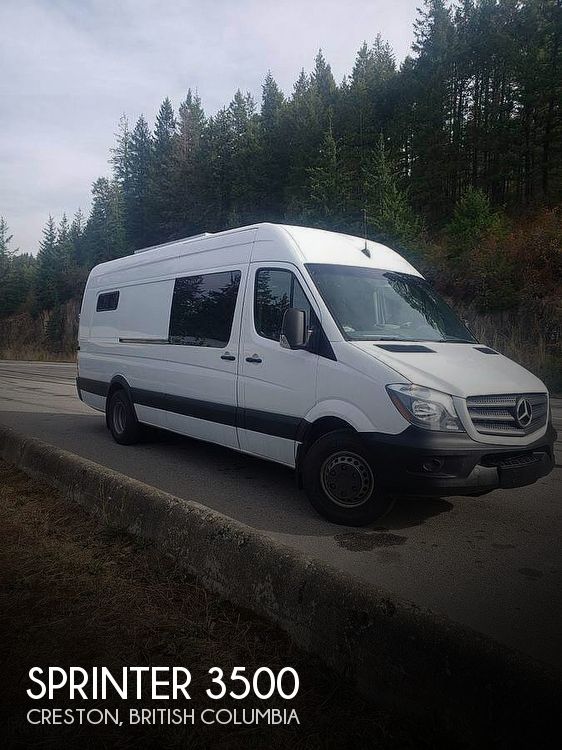 $75,000
Creston, British Columbia
Category -
Length 22
Posted 1 Week Ago
The van conversion was performed during 2019 and 2020, so it's basically new. There has been a new motor installed at 79,065 miles. Both inside and out the van looks great. It's very clean and ready for action! SALVAGE TITLE. Stock #226607 HUGE PRICE REDUCTION! 480 WATTS SOLAR! BEAUTIFUL CUSTOM INTERIOR INCLUDES FULL BATHROOM W/SHOWER, SAUNA & MACERATING TOILET! Contact us immediately for the very best deal on this 2017 Mercedes Benz Sprinter Van Conversion! It's gorgeous! The owner spent almost a year building it out for full time van life. Extremely well thought-out use of space with lots of storage and beautiful decor choices including subway tile backsplash and wood flooring. Seller is currently in Creston, British Columbia Canada, and can show the van there, or at the border near Bonnners Ferry, ID. So many fabulous accessories like the upgraded stereo system with back up camera, Bluetooth, and speakers in the front and rear. Other accessories Include Alpine seat swivels, Maxxair fan, house heater, Induction electric cooktop inset in butcher block countertop and 14-Inch Undermount SS Kitchen Sink Stainless-steel Bamboo Cutting Board sink cover. There is hot and cold pressurized water in the kitchen and bathroom! The full bathroom includes a Thetford marine 12v macerating toilet and Nautilus sliding shower door. The bathroom is also a sauna equipped with a steam generator. All tiles are ceramic. The back area includes a small clothes closet, queen sized reclining bed with remote control that rises to make a great place to watch the TV that is at the foot of the bed and wired into the sound system. There is a bench/fold out second bed. The electrical system includes three 100ah battleborn batteries powered by 875 watts of solar and tied together with a 50 amp Renogy charge controller that includes charging from the van alternator when driving and shore power charging. A 3000 watt pure sign wave inverter with 120 v powers USB outlets throughout. The 40 gallon fresh water tank with pump and actuator serves the bathroom and kitchen sink, as does the 25 gallon black water tank. Seller states this van has spent summers in Las Vegas and winter in BC Canada, and it has performed very well in all weather conditions. This rig was originally a delivery van and was involved in an accident at 30,000 miles (rear-ended a car). Professionally rebuilt, it has been driven over 25,000 miles since the repair with no issues or residual effects of the accident. Reason for selling is professional builder planning to roll more of these out!.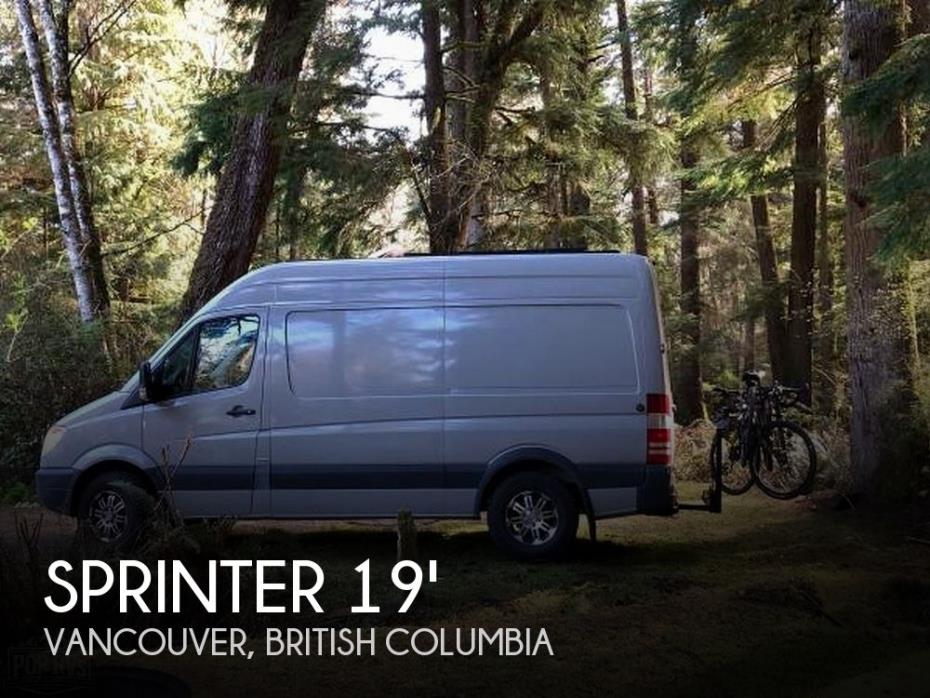 $37,900
Vancouver, British Columbia
Category Class B
Length 19
Posted 2 Weeks Ago
The van is priced in US dollars and reported to be in very good condition with many maintenance upgrades. The exterior paint is in good condition with a few very minor rust spots, one where a jack was applied and another at the base of the door. The undercarriage looks to be in very good condition with little rust. Stock #241575 Fantastic camper van: the right set-up and amount of disposable space inside so you can use it for sports and week-long (or more!) camping trips!!! This 2010 Mercedes Sprinter 2500 camper van conversion is a fantastic camper option with a great setup. The configuration features a good amount of multi-purpose interior space to comfortably accommodate sporting activities or extended camping trips. The seller has prepared the van for a worry-free experience by the next owner; heading off the possible battery and emissions issues (intake manifolds replaced). In addition, the Mercedes LETTER OF COMPLIANCE will allow easy entry into the USA for a US buyer. The "TAKATA" Mercedes precautionary airbag recall has also been completed by Mercedes. Contact us about a low cost solution to transport the van across the border during COVID. The purchase includes a spare set of wheels (rims with winter tires and sensors) plus a set of heavy-duty winter chains. There is also a top-of-the-line Tekonsha Prodigy RF wireless brake controller. A hitch-mounted luggage rack is included, as is a Thule 4-bicycle locking rack that swivels, allowing you to fully open the back doors without unloading the bikes. When boon-docking, you appreciate the solar system with a 270 watt panel, a powerful "MPPT" controller, and two brand new 200 AH 6 Volt (total 200 AH 12Volt) AGM batteries. There is a brand new sine-wave inverter. The shore power system has a smart switch charger that detects whether to charge batteries or power appliances directly with shore power. Electronics include a Nav Radio, and a rear-view camera, along with WIFI and CD/DVD entertainment. The van is also equipped with the factory dual-battery system plus the added solar battery bank. The camper is equipped with an under-counter bar refrigerator, a microwave, and other smaller appliances. And the water system can run off city water or the three tanks powered by a 12-volt high-capacity water pump. There is an on-demand water heater that supplies the sink and the shower. The shower is on the back door, and there is a removable shower stall for privacy. Stay warm in the winter with the diesel-powered furnace. It keeps the van toasty with full spray insulation throughout the entire van. There are also insulated window covers. This van is also equipped with a factory diesel-powered "heater booster" that pre-heats the engine coolant for warmer starts and quick cabin heat when underway. If you're a long distance Buyer - the Seller stated he will accommodate with an AirBNB to stay in while coming to Vancouver to see the Van, including transportation. This is a must-see for camper van enthusiasts. Call today before it's gone.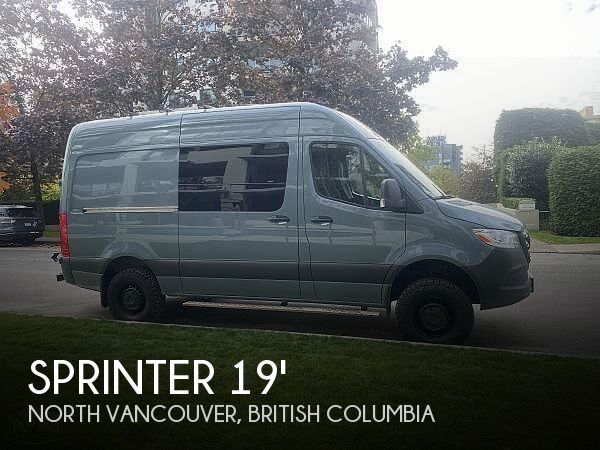 $201,000
North Vancouver District, British Columbia
Category -
Length 19
Posted 3 Weeks Ago
The 2019 Sprinter 4X4 2500 High Roof with the Mercedes Benz Chassis featured the 3.0-liter turbo-diesel V-6 engine that produces 188 hp and gives you plenty of power to navigate those long mountain pass highways. The Owner bought the Sprinter new and had the Camper Conversion professionally completed. The craftsmanship is stunning and all the RV features work to perfection. This Mercedes Sprinter is a top-of-the-line Van Conversion. Stock #282018 Beautifully crafted 2019 Mercedes Sprinter 4x4 2500 High Roof with only 7,000 miles! The 2019 Sprinter 4X4 2500 High Roof was professionally converted with the high-quality craftsmanship of the Jacobson Wood Design Company in concert with the expertise of the Shelter Overland Van Company. The walls and ceiling were fully insulated with R6-R18 insulation and then creatively crafted with Custom Cedar Wood Paneling throughout. The hand-made Cabinetry and shelving feature the workmanship of Jacobsen Wood Design and include soft close drawers and lockable latches. The kitchen features Custom Black Walnut Countertops and a matching Black Walnut Table System with perfect access to the Swivel Captains Chairs. Keep your food fresh in the Novakool R3800 fridge. You're off-grid ready with the 2-panel roof-mounted 100-watt Solar Panels that keep your batteries charged a ready. The 12 circuit fuse box has an additional 12v-170ah AGM Battery connected to a 2000 watt converter. This custom-designed and luxury finished Sprinter is ready to get you into the great outdoors. Reason for selling is downsizing.