Class A Diesel for sale in Colorado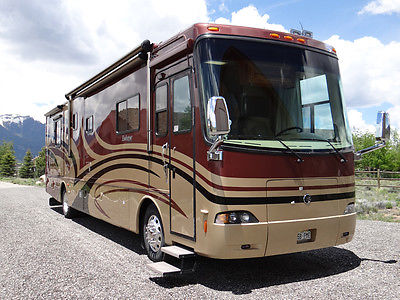 $89,900
Buena Vista, Colorado
Category Class A Diesel
Length 40
Posted Over 1 Month
2007 Holiday Rambler Endeavor 40PDQ 33,057 miles Non-Smoking Environment. If you are looking for a coach to enjoy for extended periods, this just might be the one for you. It has numerous upgrades and modifications to make life on the road more enjoyable. It was delivered to the original owner by DeMartini in Wakarusa, Indiana, in December 2006. He drove it to Florida and died of a heart attack. We purchased it in August 2007 from DeMartini in Wakarusa, Indiana, with 2,718 miles. The original buyer added numerous options to this coach (see original window sticker). This coach has been professionally maintained by heavy diesel mechanics and all periodic maintenance records are included with sale. Stored inside since 2010. The chassis and drivetrain have functioned flawlessly. Modifications and upgrades: The original KVH dish was replaced with a Winegard Traveler. The rear RCA tube television was replaced with a flat screen. The carpet in the entry and bedroom were replaced with Allure flooring. The front passenger slide floor was extended 13" and covered with Allure. Both front couches were removed and replaced with recliners. The driver's side front slide has a computer desk with pullout tray and space for medium dog crate below. Comes with coffee table with pull up top. The standard kitchen faucet was replaced with a residential kitchen faucet with hand spray. Dishwasher was installed in 2014. The Dometic refrigerator was replaced with a Samsung residential. It has a Blu-Ray DVD player. The cheap pleated shades were replaced with roller shades. Note that bedspread and wall decoration shown in pictures are not included in sale. There is no satellite receiver included in sale.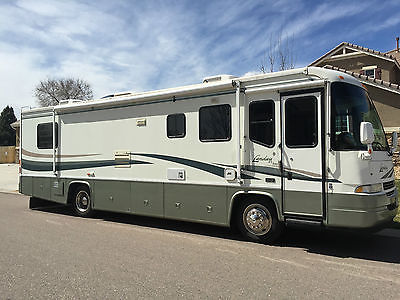 $39,800
Littleton, Colorado
Category Class A Diesel
Length 35
Posted Over 1 Month
2000 Georgie Boy Landau Class A Diesel Pusher Motorhome 35', Really low: 39K Miles, like new, proven Freightliner chassis. Cummins Turbo Diesel with Allison Transmission with plenty of power checked out by Freightliner in 2014. Ready for this summer with ZERO work on your part. Everything works and is ready to go. All-new interior: new flooring, new carpet, new bed, new windows accents, new front curtainNew Alpine Stereo and speakers with two Bose speakers in the basement for outside useDVD PlayerTV with HD AntennaRefrigerator/freezer works greatNEW 2 AC units, both <2Years old6500 Watt Onan Generator (propane)Hot water heater & Furnace work great (propane)New Top of the line Michelins (six tires) with less than 3000 MilesTons of storage in the basementRides and drives like a new one Just get in and drive. My beautiful wife needed something more plush in the $100K+ range and this one has got to go. I am a private seller and have more than $50,000 invested in this rig. The entire inside is new, all upholstery, couch, chair, window accents, top of the line residential (not RV) queen mattress, NEW memory foam hide-a-bed-mattress in the front couch, you name it is BRAND NEW. The flooring, carpet, etc. all NEW This RV has one large slide in the living room area, which keeps things simple. There is a walk around full-size queen in the back and the couch shown in the photos makes into a full size bed just like your living room couch would. the couch has a brand-new, never been slept on memory foam mattress. You will not find a diesel pusher this nice in this price range anywhere. Come take a look or I can email you some more photos. call or text: (Three-ZERO-Three) 88one-0010 -Jim NO DEALER ENQUIRIES! Buyers ONLY. Price above or best offer.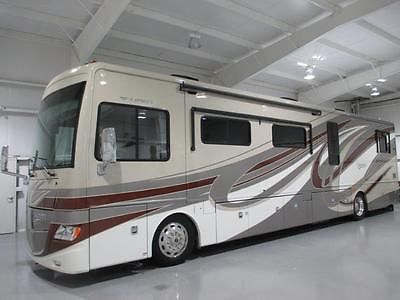 $190,000
Greeley, Colorado
Category Class A Diesel
Length 42
Posted Over 1 Month
This here is a 2013 Fleetwood Discovery that was brought home from the dealer and parked. I represented this as new since it has never been used but asking a used price since we drove it of the lot. When I say NEW, it has never been slept in, water has never been put in it, the toilets never used, you get the point. It was literally driven from the factory to Loveland, CO where the dealer is and back to Greeley, CO where it has been sitting in a hangar and never has seen the sun or snow. It has sat. It has been plugged in so the system has remained charged. The heater is on in the hangar so it never got cold, the hangar has a roof so it never got wet! As a matter of fact there are still wrappers on the carpet to protect it as well as some other screen protectors on like the TV's THE MSRP Price on this 278,055 a year ago Most of you looking at this know the standard items that these beats are equipped with, but he ones that were added on to set it apart from the others areFreightliner Chassis 380 HPFront Overhead LCDSAT Dish Wingard in motionExpandable Sofa - COOL!!!THIRD ACWDW Awning package - 2nd colorSolar Electrical panelSatellite RadioCopper Java1st Full Bay 90" S/O Tray I am selling this for a retired couple and understand motorhomes well, but will assist you the best I can in a timely manner Feel free to call me anytime about looking at it OR if you have a question at 970.396.6546. My name is Jared