Class A for sale in Saratoga Springs, Utah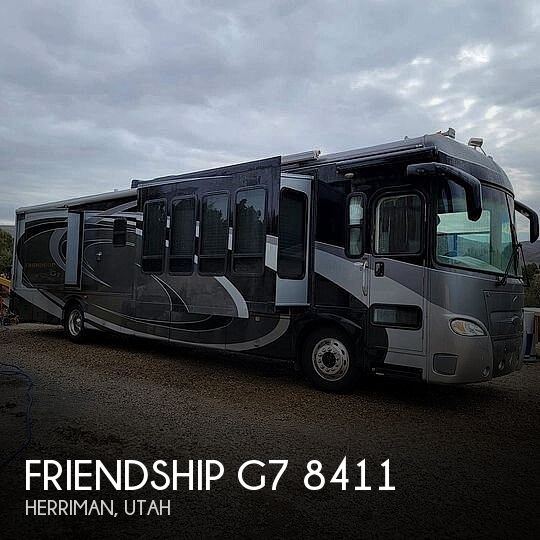 $72,000
Saratoga Springs, Utah
Category Class A
Length 41
Posted 3 Weeks Ago
This Gulf Stream Friendship G7 8411 is reported to be in good condition. The seller has maintained it. All interior functions operate as designed. There is currently no exterior awning; the original brackets are still there for a new awning. The tires were replaced in 2019 with very little use. The rear AC unit was replaced in the summer of 2022. The passenger seat has a small area of peeling material. Stock #309585 Really good condition! Aqua Hot Heater & Water Heater! 2 AC units! 2005 Gulf Stream Friendship G7 8411 Gulf Stream builds quality RVs that are very nicely appointed. This 8411 model has white cabinetry and windows that let a lot of natural light in. Comfortably decorated! The interior is laid out to maximize available space. The bathroom is split, so there is plenty of room. The master bedroom has a walkaround bed and plenty of storage space for your clothing. The galley has a nice countertop with covers, a three-burner stove, and a convection/microwave. The exterior basement compartments will store all your traveling needs. Reason for selling is not using enough.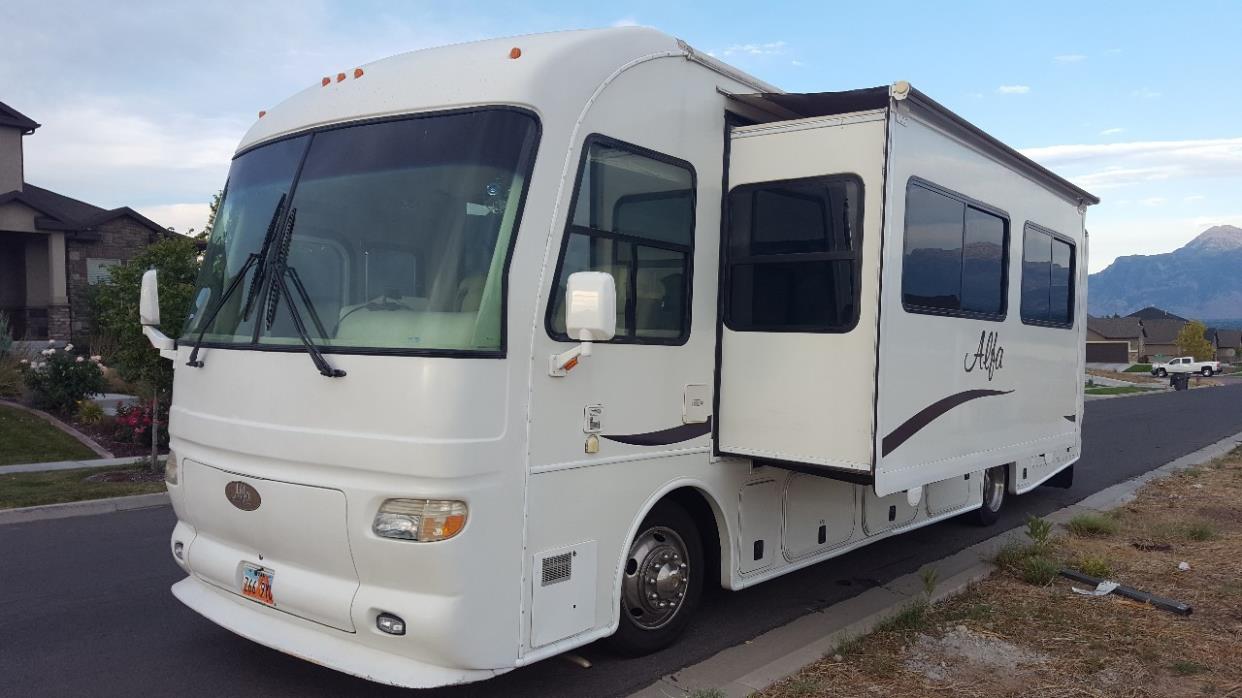 $67,900
Saratoga Springs, Utah
Category Class A
Length 38
Posted Over 1 Month
2005 Alfa See-Ya Founder EditionReady-To-Drive - Sleeps 8I added ALL THE EXTRAS so you don't have to!Only 29,882 Miles $67,900See All the photos here:http://GoHere.co/alfaMore detailed description here:http://GoHere.co/05alfaThis Coach is a 2005 Alfa See-Ya Founder Edition and it's AWESOME. I bought this to take my family on a across the country trip a few years back and spared no expense sprucing this coach up. If you don't know much about Alfa coaches just know this… they have an almost "Cult" following. People LOVE them because they were built for luxury and the inside clearance is the best. Most "Class A" coaches…. the ceilings are low...not with Alfa...it even has a ceiling fan! You feel like you are in a home...not a motorhome.The HUGE slide outs are amazing and another one of the big reasons we got this one.THIS COACH is unique and can sleeps 7 to 8 if you want. Most coaches sleep 4...this one has the master bedroom and 3 additional sleeping areas with 2 couches that fold out and a dining booth that converts to a bed. We also would put 2 twin air mattresses on the floor if you ever need more room.Besides all of the standard features which you can see below... I've added SO many things to it...it's too long to list but here are a few highlights.THINGS I ADDEDClean Dump Macerator System - No more messing around with sewer hoses...just flip a switch and pump out your waste and water...even works uphill and it has an extra long hose.Auto-tracking roof-mount satellite dish so you can watch your shows as you go down the road.A roof mounted AC unit. The coach comes with a really nice central air system but when it gets SUPER hot outside we kick the 2nd unit on and it gets ICY cold!Brand new tires. I just put brand spankin new tires on this bad boy 2 years ago and have only used it twice since then.Brand new Batteries were just added to the coach last year.Brand new battery water filling system addedHuge flat panel TV / DVD added in the frontFlat panel TV / DVD in the bedroomFlip down TV with wireless headphones in the main area. (Ya 3 TVs!)Navigation / Stereo system with speakers around the coach so you can blast your tunesIt has a 4 Wheel on the ground Blue OX towing system with a shield. (I'm also selling my Honda CRV that is all setup to be towed if you are interested.)Added additional Brake lights up high so people can see at night when you are towing.Engine auto fire extinguisherHad the coach insulated better for sound and heat and cooling retention.Added an auto battery disconnect detection switch for improved usage when connecting to shore power.Replaced seals on all the slideouts with brand new rubber.I know there is more….just too much to add here.We had the engine all tuned up, oil changes and all the major parts taken care of. It runs perfect.Most of the additions were added by Charlie's Service in Sunset, Utah.