Bus for sale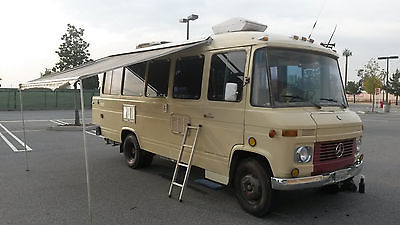 $34,950
Prather, California
Category Bus
Length 19
Posted Over 1 Month
1975 Mercedes O 309 D Mini Bus - RV You are looking at one of the rarest mini-buses found here in the United States today, and it is safe to say you probably have not seen one of these on the road; especially a fully converted one. Not only is this bus an outstanding piece of history, but it is also very functional for all different purposes as it has been fully converted to a recreational vehicle. These buses hit the market in 1967 with a life span of almost 20 years (the last one produced was in late 1986). Today, it is very hard to even find pieces of these buses left, let alone a complete bus, and one that runs and drives. The absolute best part about this listing is the fact it comes with complete second parts bus so you will never have trouble finding anything you need. This is a fully functioning piece of history that has been babied since day one, and it shows. They are commonly found on the west coast because the city of San Diego, CA ordered a massive amount of them for city transportation. They were only used for a short period of time because of the then less commonly sought after four cylinder diesel motor; if only they knew today how highly sought after this motor would eventually become. There is no need for me to explain how rare this bus is, because if you are reading this listing, you already know. The list of ideas this bus could be used for is literally endless. You could drive it exactly as it sits for hundreds of thousands of miles. This is one of a kind. They do not get better than this! If your mind is not already fantasizing about the endless adventures you could take in this bus, continue reading. The absolute best part about this bus is it has already been converted to a RV. The exterior of this bus screams "take me on the road!" The original tan color is what makes this bus stand out. If anyone knows these buses, they know this color. You find buses all over the road that have been highly modified taking away from its original character, but not this one. From the massive Mercedes emblem on the front of the bus to the round taillights mounted on the rear of the bus, it says "1975" all over it. This is NOT a show bus nor has it been completely restored, although, it has had several thousand dollars invested just in maintenance alone not included the full RV conversion. It not being restored is what makes this bus so unique. With that said, below you will find an abbreviated (yet still rather long) list of what makes this 1975 Mercedes Mini Bus RV such an outstanding vehicle: - 1975 Mercedes O 309 D MB (Mini Bus) - VIN: 309382-10-026099 - Has been in California for its entire life - Engine: Industrial 3.8L 4 Cylinder Diesel - Mileage: 19,950 - 4 stroke diesel direct injection - 85 hp @ 2800 rpm - 4 speed automatic Allison 540 transmission - Power steering - Air over hydraulic brakes - Total weight: 9600 lbs - Curb weight: 7956 lbs - Wheelbase: 11'5" - Min. Turning circle: 41' - Overall length: 18'11" - Overall width: 6'11" - Overall height above cab: 11" - Head room: 6'2" - All break out windows - Comes with all original owners and service manuals - Bosch injection pump - Top speed is approximately 65 miles per hour - Dually rear end (four tires) - Brand new 700-16 tires (less than 100 miles on them) - Full size spare - Tires are bias ply - Wheels are steel Mercedes wheels - 16" x 7.5" wheels - GVWR: 10,580 - Front: 3,970 - Rear: 7,275 - Model: O 309 D - Motor has just over 3,000 miles on fresh rebuild (pistons, rings, polished crank, gaskets , seals, water pump, starter and much more) - All fluids and filters were just changed (transmission, engine, oil bath air filter serviced, gear oil in rear end, power steering fluid, and brake fluid) - New rear wheel bearings - 2 New 800cca batteries - 2 bunk beds - Fold down kitchen table for 1 or 2 people - Fuel capacity: 32 gal - Fresh water capacity: 25gal - Grey water capacity: 25 gal - Black water capacity: 25gal - 2 bay sink - 12 volt water pump (powers toilet as well) - New 4 burner propane Magic Chef stove with oven - New Dometic RM2601 gas electric fridge/freezer - Aqua magic IV toilet by thetford - New aluminum countertop (looks amazing) - New hardwood floor - All new upholstery - All break out windows have been resealed with TRIM-LOCK bulb seal (comes with role of 150 ft of sealer) - Kitchen table seats 4 (fold down bed) - Vents front and rear for airflow on hot days - Bostrom air ride 710 captain's chairs with 10 inches of adjustment (have original receipts and parts list with literature. These are fully serviceable) - Swamp cooler mounted on front roof hatch - Air horn - CB radio - All running lights, side markers, blinkers, and all other lights are functional I know I am forgetting a few things, but I have done my best to list everything that this bus has or includes. You will be very pleased with the attention it gets! You will be able to enjoy it for years to come. This is a 1975 Mercedes Mini Bus RV! There is no other vehicle like it! As I stated earlier, the best part about this bus is the fact a second parts bus comes with it. Yes, you are getting two buses! Why does this matter? Because if you ever need anything, you already have it as parts for these buses are near impossible to find. Following is what is included: - 1975 Mercedes-Benz O-309-D Mini-bus - Set up as a passenger bus - 4 cylinder OM 314 model 314.948 USA version - 4 stroke diesel direct injection - 85 hp @ 2800 rpm - 4 sped automatic Allison 540 transmission - Power steering - Air over hydraulic brakes - Total weight: 9600 lbs - Curb weight: 7956 lbs - Wheelbase: 11'5" - Turning circle: 41' - Overall length: 18'11" - Overall width: 6'11" - Overall height above cab: 11" - Head room: 6'2" - All break out windows - Comes with all original owners and service manuals - Allison transmission - Bosch injection pump - Not currently running - Diagnosed it to be a stuck rack in the injection pump (could be used as a complete parts bus as it's the same year and everything is interchangeable) - Could be fixed and driven There is more! All the following spare parts are included in the sale as well: - Spare block - 2 heads (one is good the other is unknown) - New set of pistons and rings - 2 injection pumps (one came off a running motor that they lost the crankshaft in and was performing great and the other was another "runner" that came with the buses) - Spare windshield (both windshields in the buses have no cracks or dings) - Spare side window - Complete set of doors (passenger and driver side) - 5 spare full size wheels - Wheel hubs with studs - Spare alternators - 2 spare starters (had them tested one is good and the other needs work) - Master brake cylinder rebuild kit - More miscellaneous hardware than one can list (bearings, bushing, and so on) These buses were both purchased from an elderly gentlemen who was a German Mercedes-Benz mechanic for many years. He owned both of these buses for twenty plus years and resided in California where they have both spent their entire life. These are two of the ten he owned throughout the last few decades. Therefore, that is the reason there are so many spare and miscellaneous parts. Please, keep in mind this vehicle is considered an antique. It is by no means a show vehicle or a "perfect" condition bus. You absolutely must see it in person to appreciate it! It will not be hauled nor driven for you to decide if you like it or not. You are the buyer; therefore, you are responsible for all parts on your end of the sale (i.e. shipping, title transfer, registration, insurance, inspection, and so on). TERMS AND CONDITIONS: · This 1975 Mercedes O 309 D MB (Mini Bus) is sold AS-IS with NO WARRANTY IMPLIED OR EXPRESSED. · I encourage ALL PARTIES interested to view the bus in person! Pictures do not do it justice. · PLEASE, DO NOT use the buy it now nor submit an offer unless you have obtained 100% of the funds to purchase this bus. · I'm listing this bus for a friend of mine. His name is Josh. You may contact him anytime at 207-329-9193. · I have numerous pictures of this bus. I can email or text them to you upon request. · The buyer is responsible for all shipping charges. IF you are having the bus shipped to you, you need to make sure shipping is set up BEFORE using the buy it now or submitting an offer (remember, there are TWO buses). · The buses are located in Prather California, 93651. This is where they will need to be picked up. Normal 0 false false false EN-US X-NONE X-NONE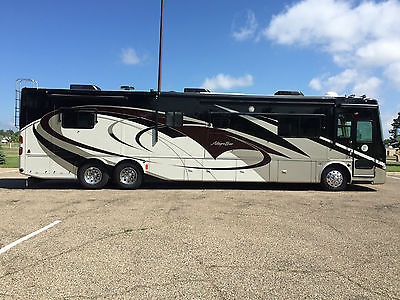 $167,500
Aberdeen, South Dakota
Category Bus
Length 43
Posted Over 1 Month
4 slide outsOnan Quiet Diesel 10000 Generator 10kw 775 hoursAqua-Hot Hydronic Heating system4 Flat screen TV'sWinegard In-Motion StelliteXantex Inverter controllerFreedom SW 3012 inverter new 2014Basement with 4 slider traysGo Power Digital Solar system (new Controller 2015)Fisher & Paykal DishwasherDometic Auto Awning System2 burner gas cooktopHWH Auto Leveling SystemFlexsteel SeatsMicrowaveFull Size Electric FridgeSelect Comfort Rear BedStand up ShowerWasher & DryerI am still using it so mileage may change and the basement will be empty for the sale of Bus. Feel Free to call with Questions 605-380-5842 If you need more pictures please contact me.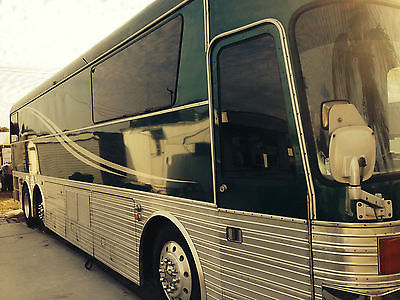 $63,950
West Palm Beach, Florida
Category Bus
Length -
Posted Over 1 Month
1988 SILVER EAGLE MODEL 15 COACH 40 foot 6v 92 diesel pusher motor, allison automatic transmission with torsion bar suspension system – top of the line! Brand new tires. Totally rebuilt engine for lasting enjoyment! Renovated interior in 2012 - granite countertops, new carpeting, new upholstery, new refrigerator. Has a combination washer dryer. Shower redone in beautiful spa marble tiles and a full over-sized shower. This vehicle is complete luxury on wheels. Comfortably sleeps six with double central air. This well-traveled tour bus was previously owned by a country music superstar! Don't wait, this vehicle will go fast – contact us now for additional photos of anything specific or if you have any other questions.